A Victory for Biden-Harris 2020 and LA Labor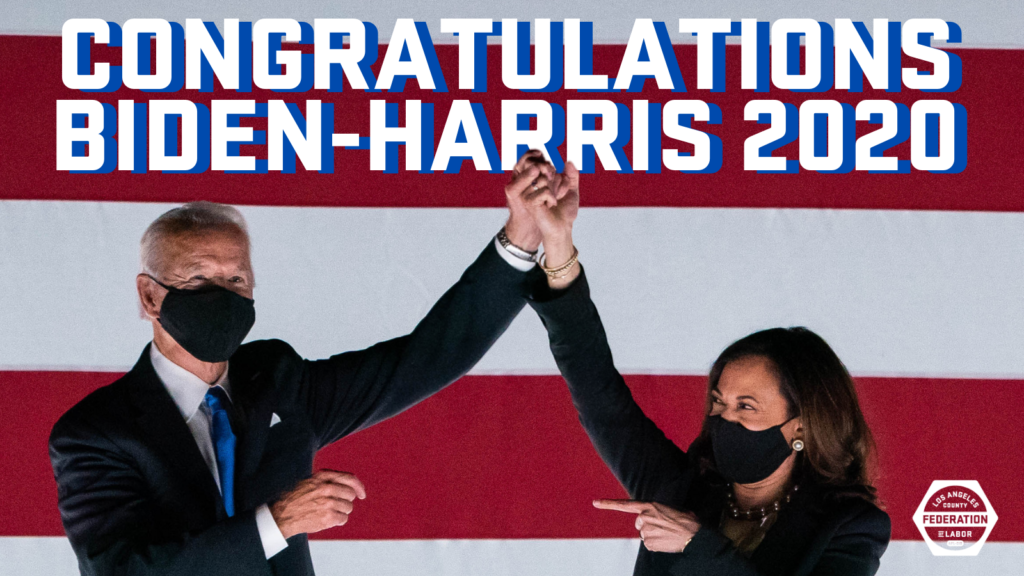 Today marks a great victory that was made possible thanks to the efforts of thousands of union members across Los Angeles County. Americans have spoken loud and clear by electing Joe Biden and Kamala Harris as their President and Vice President.
The Los Angeles Labor Movement was crucial in winning this victory to protect our democracy and heal our nation. Throughout the election cycle, The Los Angeles County Federation of Labor, representing over 800,000 workers from over 300 affiliates, organized one of the most robust get out the vote operations in the country which was key in record level turnout by contacting tens of thousands of voters in key swing states like Pennsylvania, Wisconsin, and Arizona that were critical in determining the outcome of the 2020 Presidential election.
Over one million dials were made and over a hundred thousand conversations were had by union members during this election cycle. This included a partnership with the Arizona AFL-CIO and our affiliate, UNITE HERE Local 11 where over 250,000 conversations were had with Arizona voters that were critical in delivering the state and its electoral votes to Joe Biden and Kamala Harris.
While we are confident in our victory, we must respect the democratic process and support the count of every vote cast in this historic election.
This was a victory for working families. Union members led the way to save our democracy by getting their fellow union members across the country to make their voices heard and vote for leaders that will put working families first. Our work does not end here: union members must roll up our sleeves and get to work to heal and rebuild our Nation and our unions by pursuing the common good through labor's values of hard work, respect, dignity, and integrity.
Ron Herrera
President
Los Angeles County Federation of Labor, AFL-CIO