L.A. Union Votes: 2020 Volunteer Guide
Thank you to all of the volunteers that have been tirelessly phone-banking, virtually and in-person (every Saturday at the LA Fed office). With just days until November 3, the last day to vote in this critical election, every dial is critical and every volunteer makes a difference.
Find out how to get involved and earn limited-edition L.A. Union Votes 2020 swag – starting today (10/30) every shift counts for DOUBLE POINTS!
Questions? Contact Michelle Bertinelli (Volunteer Coordinator) at michelleb@thelafed.org or 818-694-2790
---
GOTV Shifts For Endorsed Candidates and Ballot Initiatives
Saturday 10/31
With THREE days left, GOTV for Biden-Harris 2020 or Herb Wesson for Supervisor & Reggie Jones-Sawyer for CA Assembly
Count Me In
Sunday 11/01
With TWO days left, GOTV for Biden-Harris 2020
Count Me In
Monday 11/02
With only ONE day left, GOTV for all our endorsed candidates!
Count Me In
ELECTION DAY 2020
On the LAST DAY to vote, GOTV for L.A. candidates and make sure people get to the polls!
Count Me In
Adopt a GOTV Day
Have your union local or organization adopt a GOTV Day and host a phone-bank party! Let us know what day(s) you want us to adopt from the schedule above.
Contact Michelle
---
Get Your L.A. Union Votes 2020 Swag!
Some of you have noticed people stylishly rocking our limited edition 2020 L.A. Union Votes Swag and asked how to get some of your own. The answer: get involved and get out the vote!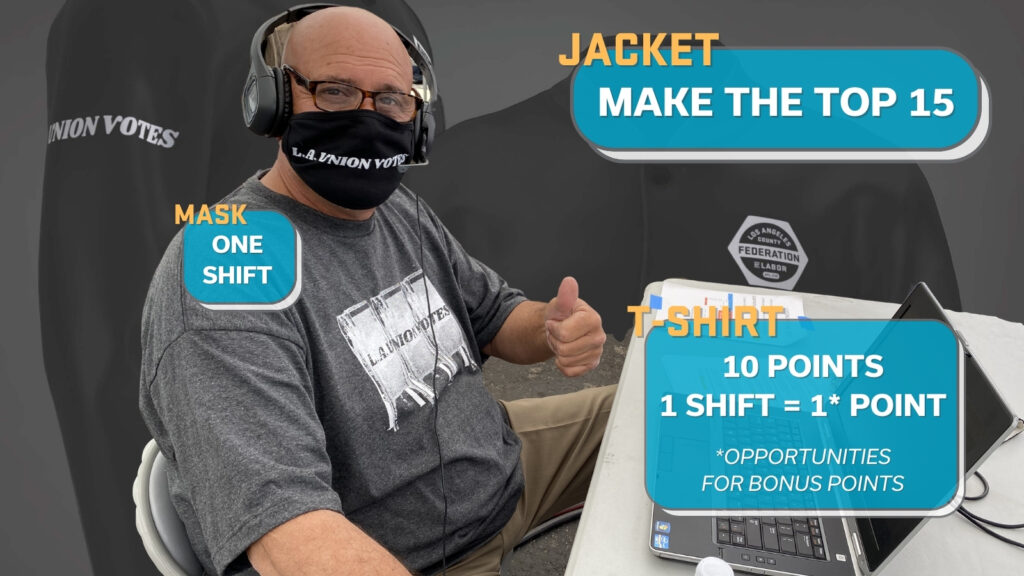 For a mask: complete ONE (just one!) in-person or virtual phone-bank shift.

For a shirt: earn 10 points – 1 shift = 1 point, but be on the look out for emails, texts, and app notifications for shift opportunities that will count as BONUS points.

And finally, for a highly coveted LA Fed jacket: be in the TOP 15 most phone-banking shifts completed!
Sign up above and make sure you check your email and texts for more information from the L.A. Union Votes GOTV team on how to complete your shift. Complete shifts, get labor friendly candidates elected, and we'll keep track of your swag!
(P.S. Don't forget to download the app in the link and turn on notifications to make sure you don't miss opportunities for BONUS points.)
---
Stay Updated
Download the L.A. Union Votes app
Available for both Apple and Android devices, download our app and turn on notifications to make sure you don't miss any key updates.
Download