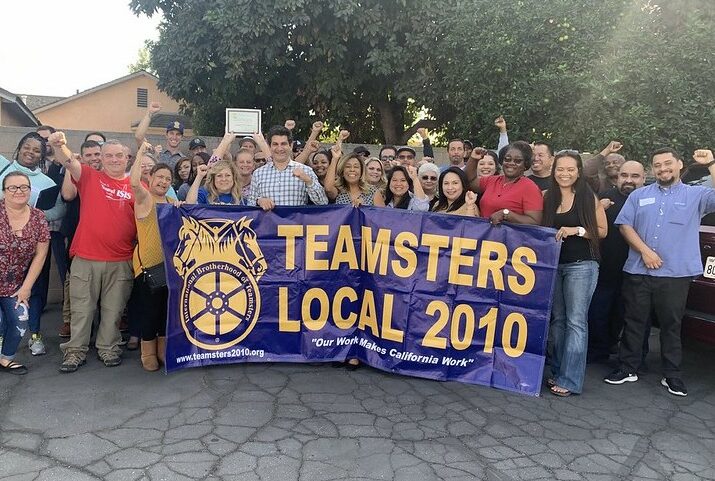 Teamsters Local 2010
Communications Specialist
(Position based in Oakland, California)
Teamsters Local 2010 is pleased to announce the Communications Specialist position to be filled as soon as possible.
Teamsters Local 2010 represents 15,000 administrative support and skilled trades workers employed in higher education throughout the State of California ‐ this position offers a unique opportunity to tell their story. The position will report to the Communications Director and will be based out of the headquarters location in Oakland, California.
Position Description
We are seeking an experienced Communications Specialist committed to social justice by advancing workers' rights using the voice of the members through various platforms and mediums of communications.
The ideal candidate will be versed in communications with experience in organized labor, social justice, or political issues and possess excellent written and digital skills that both deepen and broaden engagement with the members, community support groups, and the public. Candidates with broad social media experience and ideas are encouraged to apply.
Essential Duties
Support complex communications program requiring a wide variety of communications media, including written, visual, digital and electronic, and associated technical
applications
Under the direction of the Communications Director, assist in the development and implementation of communications and campaign strategies essential to supporting the goals and objectives of the Local Union
Maintain and broaden awareness of issues by increasing visibility of the work of the Union on a local and national level; execute communications across all media platforms
Write clear and compelling messages to drive member engagement, increase membership and continually improve the Union's communications with varied audiences
Assist with member leader spokesperson trainings and development
Produce a variety of high‐quality digital and written materials such as email, direct mail, brochures, flyers, press releases, speeches, and talking points
Produce and edit short videos to drive Union activities
Assist in earned and paid media efforts, including conceptualizing and holding events such as press conferences and worker actions
Assist with building and maintaining relationships with media/reporters in traditional print, television, radio, and online media outlets; conduct outreach to promote Union activities
Maintain Union website and social media accounts.
Assist in expanding social media offerings to increase audience and engagement
Prepare and execute procedures for robo calls, and text messaging
Serve, on occasion, as Union spokesperson to the media and at various events
Attend and cover critical meetings and events as directed
Minimum Requirements
Two or more years' experience supporting a complex communications program
including written, visual, digital, and electronic communications, for a large, highly
visible organization required. Graduation from an accredited four‐year college or
university with course work in journalism or communications preferred
Outstanding verbal, written, and editorial communications skills, especially under
pressure and tight deadlines
Ability to manage multiple social media channels and reasonably increase engagement
Proficiency in MS Office Suite, Google Docs, Adobe Creative Cloud; experience with
Salesforce preferred
Fast learner, ability to adapt to new technology, ability to seek out and recommend
innovative ways to increase the Union's reach
Willingness to work extended hours as needed to complete projects and support other
Union activities as requested
Ability to travel providing communication coverage
Photography, video editing, and/or graphic design skills are a plus
Compensation
Teamsters Local 2010 offers a competitive salary commensurate with work experience. In addition, medical, dental, vision, and life insurance are provided.
The Communications Specialist is considered 'at will – exempt' in that they may supervise administrative staff and interns; have access to confidential information; input on operational decisions internal and external strategies; and exercise independent decision‐making.
Application Process
Interested parties should submit an application packet including the following:
a cover letter
résumé covering your work history for the past 10 years
writing samples: email blast, social media post(s), campaign leaflet & talking points
contact information for 3 professional references
To Melissa Munio at mmunio@teamsters2010.org. Incomplete application packets will not be considered.
This position will remain open until filled.
Successful candidates must submit to a background screening, and not have a disqualifying conviction as described in the Labor‐Management Reporting and Disclosure Act (LMRDA).